Symposium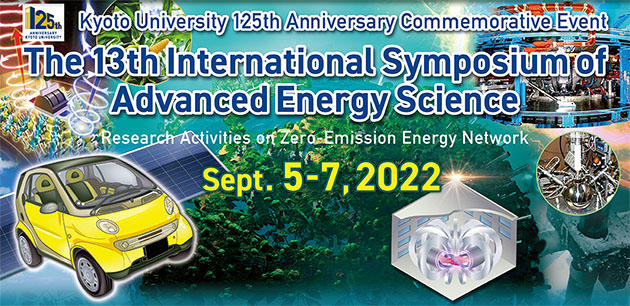 Kyoto University 125th Anniversary Commemorative Event The 13th International Symposium of Advanced Energy Science will be held on September 5-7th, 2022 jointly by the Institute of Advanced Energy, Kyoto University and Joint Usage/Research Center for Zero-Emission Energy Research.
Date: September 5-7th, 2022 (Symposium goes hybrid)
=>2022Timetable(pdf)[08/01/2022]
Target: There is no special qualification, but the contents are professional.
Participation fee: Free
Capacity: 400 people
Method:
Oral Session
September 5 (Mon.), 9:30 a.m. - 6:10 p.m. (JST)
Hybrid format of online(Zoom)and on-site(up to 40 persons)

Poster Session
September 6 (Tue.), 9:30 a.m. - 6:00 p.m. (JST)
Online (Gather Town)

Satellite Meeting
September 7 (Wed.), 10:00 a.m. - 5:15 p.m. (JST)
Hybrid format of online(Zoom)and on-site
Language: English (no simultaneous interpretation)
=>Application form
Application deadline: August 22 (Mon.)
After registering for participation, we will inform you of addresses for Zoom and other online events.
Plenary Speaker
Keiichi ISHIHARA

Kyoto University, Japan
Professor

" Carbon Neutral Energy System in Japan"
Invited Speaker
Makoto SHIMIZU

Tohoku University, Japan
Associate Professor

" Optical Rectennas for Photoelectric Conversion of Infrared Light"

Osami SHOJI

Nagoya University, Japan
Professor

" Gaseous Alkane Hydroxylation Catalyzed by Fatty Acid Hydroxylase "

Masaru TOMITA

Railway Technical Research Institute, Japan
Dr.

" Innovative Technology Using Superconductor for Railways "

Yasuhiko SENTOKU

Osaka University, Japan
Professor

"Physics of High Energy Density Plasmas Produced by Intense Laser Light "

Naoyuki HASHIMOTO

Hokkaido University, Japan
Professor

" Recent Activities of HEA Research for Nuclear Application "

IL JEON

SKKU Advanced Institute of Nanotechnology(SAINT), Sungkyunkwan University(SKKU), Republic of Korea
Associate Professor

" M13 Virus-inoculated Perovskite Solar Cells "

Marco CALVI

Paul Scherrer Institute, Switzerland
Senior Scientist

" A GdBCO Undulator for Microscopy Tomography at the New Swiss Light Source, SLS2.0 "

Reiko ODA

CNRS, University of Bordeaux, France
Professor (DIRECTEUR DE RECHERCHE)

"Chiral Molecule to Chiral Functional Nanoobjects "

Josefine PROLL

Eindhoven University of Technology, Nederlands
Assistant Professor

" Reduced Turbulence in Optimised Stellarators "

Ed PICKERING

University of Manchester, UK
Senior Lecturer

"High Entropy Alloys: An Introduction, and an Assessment of Their Potential for Nuclear Applications "
=>The 12th International Symposium of Advanced Energy Science(2021)