Symposium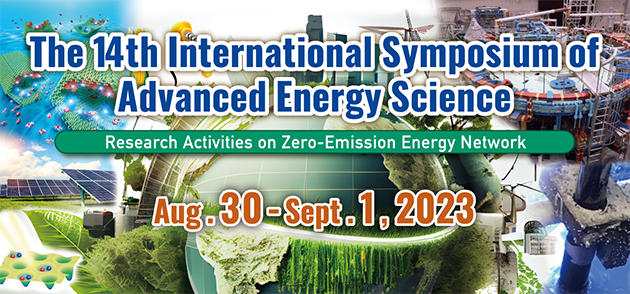 The 14th International Symposium of Advanced Energy Science will be held on August 30- September 1st, 2023 jointly by the Institute of Advanced Energy, Kyoto University and Joint Usage/Research Center for Zero-Emission Energy Research.
Date: August 30- September 1st, 2023
=>2023Timetable(pdf)[2023/08/25]
Venue: Kihada Hall, Uji Obaku Plaza, Kyoto University, Uji Campus, etc.
Target: There is no special qualification, but the contents are professional.
Participation fee: Free
Capacity: 300 people
Method:
Oral Session
 August 30 (Wed), 9:30 a.m. - 12:20 p.m. (JST)
 August 31 (Thu), 1:30 p.m. - 5:40 p.m. (JST)
 Kihada Hall, Uji Obaku Plaza
 *Hybrid format of online (Method to be determined) and on-site

Poster Session
 August 30 (Wed), 2:15 p.m. - 7:00 p.m. (JST)
 August 31 (Thu), 9:30 a.m. - 12:00 p.m. (JST)
 Hybrid Space, Uji Obaku Plaza

Parallel Seminar
 September 1 (Fri)
Language: English (no simultaneous interpretation)
=>Application form
Applications are now closed.
Application deadline: July 31 (Mon)
More information will be provided after registration.
Participant only website
=>http://www.iae.kyoto-u.ac.jp/zero_emission/symposium/member/
Participants will be notified of their login ID and password separately.
Plenary Speaker
Zensho YOSHIDA

National Institute for Fusion Science, Japan
Director General

" Prospects of Fusion Energy and Paradigm Shifts in Fusion Science"
Invited Speaker
Gunsu S. YUN

Pohang University of Science and Technology, Korea
Professor

" Understanding Non-normal Fluid Behavior in Fusion Plasmas"

Mitsuru HONDA

Kyoto Univeristy, Japan
Professor

" Supervised and Unsupervised Learning Approaches to Complement Numerical Simulations of Fusion Plasmas "

Fujio MAEKAWA

Railway Japan Atomic Energy Agency, Japan
Division Head

" Accelerator Driven System for Efficient Transmutation of Radioactive Waste "

Koji MIYAZAKI

Kyushu University, Japan
Professor

"Thermoelectric Properties of a Printed Thermoelectric Film "

Kyohei YOSHIDA

Kumamoto Industrial Research Institute, Japan
Researcher

" Mode-selective Phonon Excitation of Semiconductors by MIR-free Electron Laser "

Nobutaka FUJIEDA

Osaka Metropolitan University, Japan
Professor

" Simple Designing Artificial Non-heme Metalloenzymes and Their Application to Stereoselective Synthesis "

Rong XIANG

Zhejiang University, China
Professor

" Design and Synthesis of One-dimensional van der Waals Heterostructures for Energy Applications "

Jean-Philippe COLOMBIER

The Hubert Curien Laboratory, France
Professor

"Ultrafast Laser-induced Surface Complexity Patterns at the Nanoscale "

Atsushi URAKAWA

Delft University of Technology, Netherlands
Professor

" Playing with Thermodynamics and Kinetics in CO2 Conversion Catalysis "

Francisco A. HERNÁNDEZ GONZÁLEZ

Karlsruhe Institute of Technology, Germany
Group leader

"Emerging Breeding Blanket variants for the EU DEMO "
IAE Speaker
Takashi NAGATA

IAE, Kyoto University, Japan
Associate Professor

" Structural Biology Approaches to Biomass Utilization: Opportunities and Challenges "