Symposium(2019)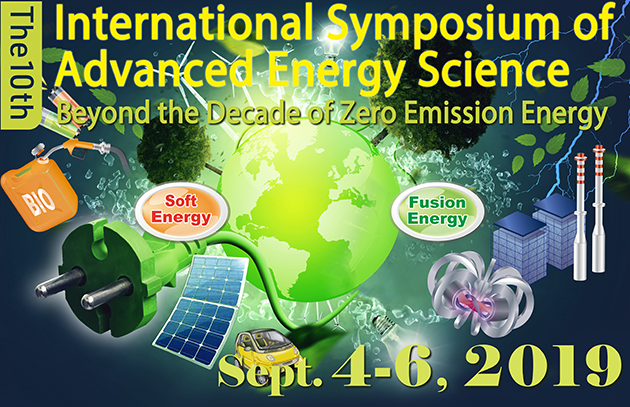 Date: September 4th to 6th, 2019
Venue: Kyoto University Uji Campus =>MAP
 =>2019timetable_20190830.pdf[08/30/2019]
The 10th International Symposium of Advanced Energy Science will be held on September 4th - 6th, 2019 jointly by the Institute of Advanced Energy, Kyoto University and Joint Usage/Research Center for Zero-Emission Energy Research.
Plenary Speaker
Akira FUJISHIMA

Tokyo University of Science Photocatalysis International Research Center
Distinguished Professor

" Active Approach Forward for Comfortable World "

Keigo AKIMOTO

Research Institute of Innovative Technology for the Earth
Leader of Systems Analysis Group

"Current policies and issues, and strategies in the future on energy and climate change response "
Invited Speaker
Sang Yong JU

Yonsei University
Associate Professor

" Optical anisotropy of handed carbon nanotubes assembled with chiral flavin helix and its application for Hg(II) sensor "

Jean-Guy BERRIN

INRA - Biodiversité et Biotechnologie Fongiques (Biodiversity and Biotechnology of Fungi)
Dr

" Fungal biodiversity as a source of enzymes for the conversion of biomass into biofuels "

Filippo SCOTTI

Lawrence Livermore National Laboratory
Research Scientist / Dr.

" Transport and turbulence in the scrape-off layer and divertor of the National Spherical Torus Experiment "

T. P. Radhakrishnan

School of Chemistry, University of Hyderabad
Professor

" In situ Fabricated Polymer-Metal/Semiconductor Nanocomposite Thin Films and their Multifaceted Applications "

Konstantina LAMBRINOU

SCK·CEN (Studiecentrum voor Kernenergie - Centre d'étude de l'Energie Nucléaire)
Scientific collaborator

" Development and qualification of accident-tolerant fuel cladding materials: the H2020 IL TROVATORE approach "

Koji AMEZAWA

Tohoku University, Research Institute of Multidisciplinary Research for Advanced Materials
Professor

" Solid State Ionics Devices for Use of Renewable Energy ~Device Development Based on Synchrotron X-Ray Operand Measurements~ "

Haruyuki ATOMI

Department of Synthetic Chemistry and Biological Chemistry, Graduate School of Engineering, Kyoto University
Professor

" Unique metabolism of the Archaea "

Suguru MASUZAKI

National Institute for Fusion Science
Professor

" Progress of research on edge/divertor plasmas and plasma-wall interactions in fusion experimental devices "

Kosei UENO

Department of Chemistry, Faculty of Science, Hokkaido University
Professor

" Plasmon-enhanced photochemistry; nanoprocessing and energy conversion "

Naoto SEKIMURA

Department of Nuclear Engineering and Management School of Engineering The University of Tokyo
Vice President Professor

" Roles of Nuclear Technology for Future Global Society "

Hisayoshi MATSUSHIMA

Hokkaido University
Associate Professor

" Novel Application of Hydrogen Energy Devices for Hydrogen Isotope Separation "

Kenji YOKOTA

Tokyo University of Agriculture
Professor

" Function of cyclic lipopeptides derived from Bacillus spp. in biological control against plant diseaes "

Masayuki YOSHIKAWA

University of Tsukuba
Associate Professor

" Progress of the divertor-relevant experiments in the tandem mirror GAMMA 10/PDX "

Mamoru KITAURA

Faculty of Science, Yamagata University
Professor

" Visualizing defect complexes in multicmponent oxide scintilators using MIR-FEL and LCS γ-ray pulses "

Ken-ichi FUKUMOTO

The Research Institute of Nuclear Engineering, University of Fukui
Professor

" Barrier strength factor of irradiation defects in metals and alloys from dynamic deformation process using in-situ TEM observation in tensile test "

Toshiyuki NOHIRA

IAE, Kyoto University
Professor

"Sodium Secondary Batteries Using Ionic Liquid Electrolytes for Energy Storage "