Symposium
[Information] [Timetable] [Poster]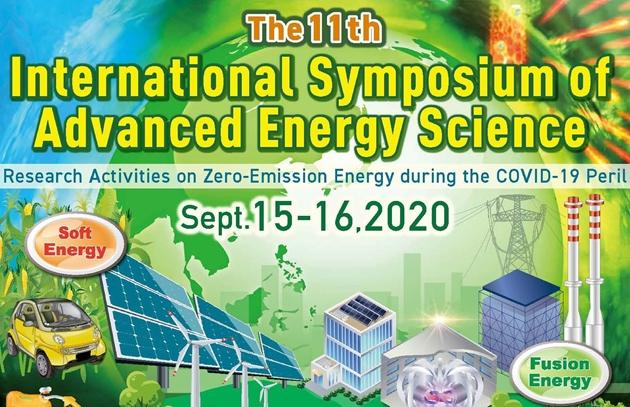 The 11th International Symposium of Advanced Energy Science will be held on September 15th - 16th, 2020 jointly by the Institute of Advanced Energy, Kyoto University and Joint Usage/Research Center for Zero-Emission Energy Research.
Date: September 15th to 16th, 2020 (Symposium goes online)
=>2020Timetable(pdf)[08/13/2020]
Target: There is no special qualification, but the contents are professional.
Participation fee: Free
Capacity: 500 people
Language: English (no simultaneous interpretation)
=>Application form
Application deadline: September 4th (Fri)
After registering for participation, we will inform you of addresses for Zoom and other online events.
Plenary Speaker
Masaru HORI

Center for Low-temperture Plasma Sience,Nagoya University, Japan
Director/Professor

" Future Technologies Opened by Low-temperature Plasma Sciences "
Invited Speaker
Stephen MALDONADO

University of Michigan,USA
Professor

" Insights on the Premise of Growing Crystalline Silicon Solar Cells on the Benchtop "

Hironori NAKAJIMA

Kyushu University, Japan
Assistant Professor

" Fuel Cell Research for Carbon Recycle Society"

Sihan ZHAO

University of California at Berkeley, USA.
Postdoctoral Researcher

" Probing the unique electrical and optical properties in one-dimensional carbon nanotubes and nanoribbons "

Takayasu KAWASAKI

Tokyo University of Science, Japan
Researcher

" Degradation of Cellulose Aggregate by using Infrared Free Electron Laser "

Sadat Mohamed Rezk KHATTAB

Kyoto University,Japan, Al-Azhar University, Egypt.
Visiting Scholar and Researcher & Associate Professor

" Bioethanol: Current Status and Perspectives "

Haruo KAWAMOTO

Kyoto University, Japan
Professor

" Fundamental characteristics of biomass pyrolysis to improve pyrolysis-based technologies "

Takeo MUROGA

National Institute for Fusion Science
Deputy Director General/Professor

"The Role of D-Li Neutron Sources in Fusion Materials Research and Development "

Antonio VAYA SOLER

OECD/Nuclear Energy Agency
Analyst

" Unlocking Reductions in the Construction Costs of Nuclear: A Practical Guide for Stakeholders "

Shunsuke IDE

National Institutes for Quantum and Radiological Science and Technology
Director

" JT-60SA, the project and the current status "

Marcin JAKUBOWSKI

Max-Planck-Institut fuer Plasmaphysik
Dr.

" Towards thermonuclear fusion with the stellarator Wendelstein 7-X "
=>The 10th International Symposium of Advanced Energy Science(2019)