Notification of FY 2022 Research Outcome Meeting of Joint Usage/Research for Zero Emission Energy (online)
Past Events
Outline : Institute of Advanced Energy, Kyoto University, as a center for joint usage and research, has been conducting joint use and research on "zero-emission energy" to drastically solve global environmental problems by providing its advanced, cross-disciplinary knowledge, information, and research facilities and equipment to related researchers throughout Japan.
In this meeting, we will report on the results of the fiscal year 2021 of the open-call joint usage and joint research, which is one of the important activities of the institute, and deepen the discussion on zero-emission energy.
We look forward to your participation.
DATE : March 10, 2023 (Friday)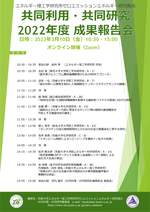 Time: 10:30 - 15:00

Method: Online (Zoom meeting)

Target audience: Researchers and students

Participation fee: Free of charge
Language: Japanese
Meeting Program : 2022 ZE Annual Meeting Program.pdf (Japanese only)
2022 Annual Report URL : 2022 Annual Report.pdf
Registration: If you are interested in participating, please register for the Zoom meeting below by Thursday, March 10.
Application form URL : Click here to apply.
Contact: The Joint Usage/Research Center for Zero Emission Energy Research
TEL: 0774-38-3413 FAX: 0774-38-3412
E-mail: kyodo*iae.kyoto-u.ac.jp (* should be changed to @)